Your Trusted Dumpster Rental Columbus MS Provider for All Occasions
When it's time to get started on a home improvement project or take your contracting business to the next level, choose our dumpster rental Columbus MS company for top-quality service, flexible scheduling, and competitive rates. As a locally owned and operated business, we take pride in providing a necessary service for homeowners, property managers, business owners, contractors, and everyone in between with our local dumpster rental in Columbus.

Hauling away waste, clearing out piles of brush, or organizing your cluttered garage doesn't have to be a dumpster fire. With our professional team of dumpster rental Columbus MS experts, your DIY or cleanout project will go off without a hitch. When you rent dumpsters in Columbus MS using our affordable and helpful services, there's no need to sweat the little details. From finding the perfect size container for your project to scheduling a delivery window to picking up the roll off when it's full, we're here to help each step of the way.

Our 5-star reviewed dumpster rental Columbus MS options make beneficial additions to a wide range of residential, commercial, and construction projects in Columbus, Mississippi, and surrounding areas. When it's time to schedule a dumpster rental in Columbus MS, call our experts at (662) 364-0228 or book online today!
Various Uses for our Reliable Dumpster Rental Columbus Options
There are countless reasons to find a trustworthy dumpster rental Columbus provider to help support all of your residential and commercial waste disposal needs on a short or long-term basis. We regularly work with rental agencies, investors, contractors, and small business owners to provide cost-effective solutions to their dumpster service Columbus MS needs.

We use only industry-leading, durable dumpster rental Columbus selections from reputable manufacturers, so when you book with us, you know you'll be receiving a clean, well-maintained, and sanitized roll off to help manage your project. We work directly with the Lowndes County Sanitary Landfill to ensure waste is disposed of properly and responsibly in accordance with local guidelines.

If you're searching for dependable Columbus roll off dumpster rentals, look no further than with the team at Lux Dumpster Rentals. We take pride in prioritizing exceptional customer service, convenient online booking, and versatile, affordable options to suit every project. Book your roll off online today!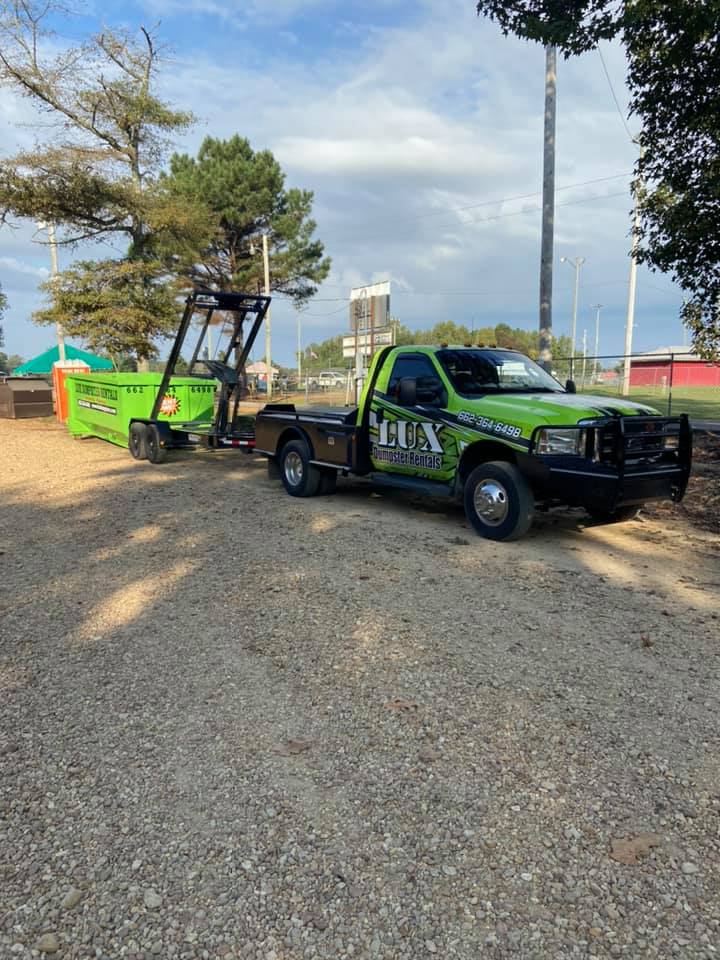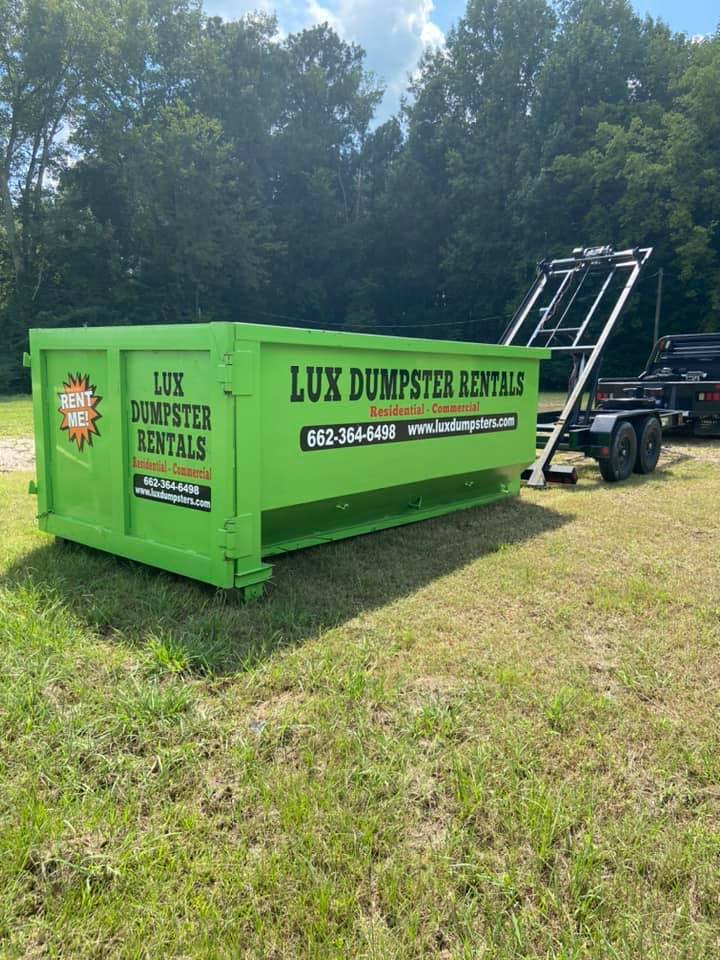 Homeowners Love our Columbus Residential Dumpster Rental
Waste naturally accumulates in homes over the years, but with the support of our Columbus residential dumpster rental selections, you can clear out the clutter and reclaim your space in no time! Home and property owners regularly utilize our Columbus dumpster options for garage, attic, or basement clean-outs, roofing repairs, single-room renovations, estate sales, appliance removal, downsizing, hoarding clean-outs, and everything in between.

Our homes are our sanctuaries and with the help of our Columbus residential dumpster rental, you can transform your home into the space of your dreams in an affordable, convenient, organized manner. When you rent a residential dumpster rental Columbus from Lux Dumpster Rentals, you can rest assured we'll deliver in a thoughtful, experienced manner, making certain your driveway is unscathed by our durable roll offs. Take your time loading the roll off on your own schedule and give us a text when you're ready for us to haul it away. We'll get it out of your hair in no time! Book your roll off online today or give us a call at (662) 364-0228 for more details.
Rent a Dumpster Columbus MS for Yard Waste
Homeowners and property managers regularly rent a dumpster Columbus MS for all of their yard waste needs, ranging from landscaping to cleaning up after a volatile storm. When you rent a Columbus MS residential dumpster rental with our dedicated team of professionals, your outdoor project will be a walk in the park.

Some examples of uses to rent a dumpster Columbus MS for yard waste disposal include outdoor repairs like roofing or deck work, cleaning out gutters, weeding out large flower beds, planting gardens, cleaning up storm debris, and so much more. Get in touch with us at (662) 364-0228 or book your roll off online and get started today!
Contractors' Choice for Columbus Construction Dumpster Rental (H3)
Keeping a work site waste-free and on the right track is crucial to the success of a new development, which is why contractors trust us to provide reliable and affordable Columbus construction dumpster rental options for their short or long-term rental needs. We deliver on time and pick up as soon as the container is filled, keeping your site streamlined and organized.

Our durable containers are built by industry-leading manufacturers who implement cutting edge designs to make the loading process as quick, efficient, and safe as possible, so you can rest assured that when you rent a Columbus MS construction site dumpster rental from our team, you're investing in a beneficial asset that will add to the continued accomplishments of your development project.

Scheduling a Columbus MS construction dumpster rental is a simple and straightforward process. Navigate to our "Dumpster Rental" page and choose the best size container for your job site, then check out. With our convenient system, you can book directly from your work site through your smartphone and have a dumpster onsite as quickly as we can manage. Get in touch with us at (662) 364-0228 with any questions!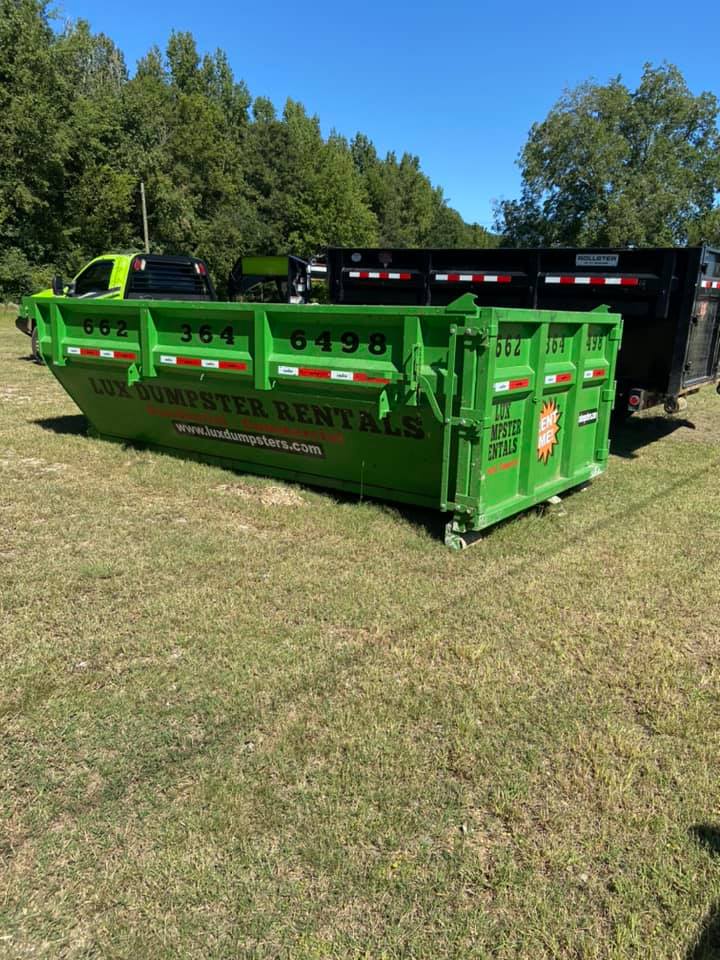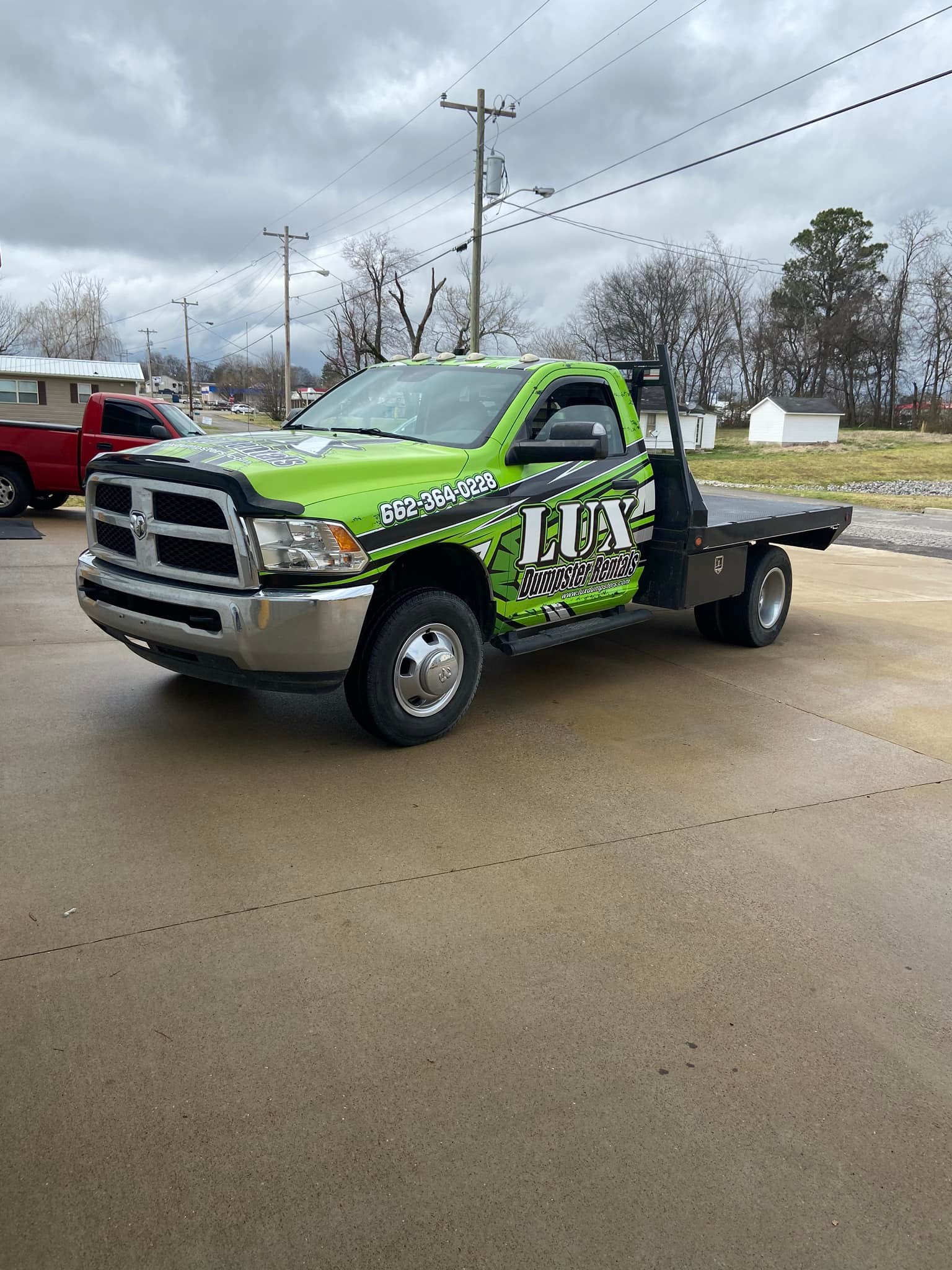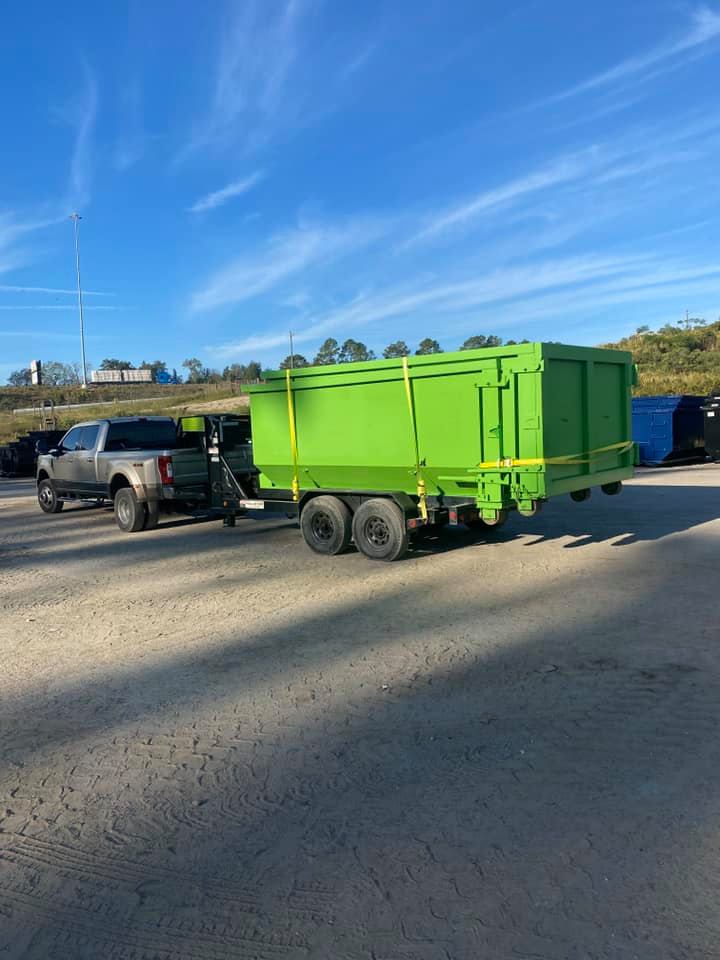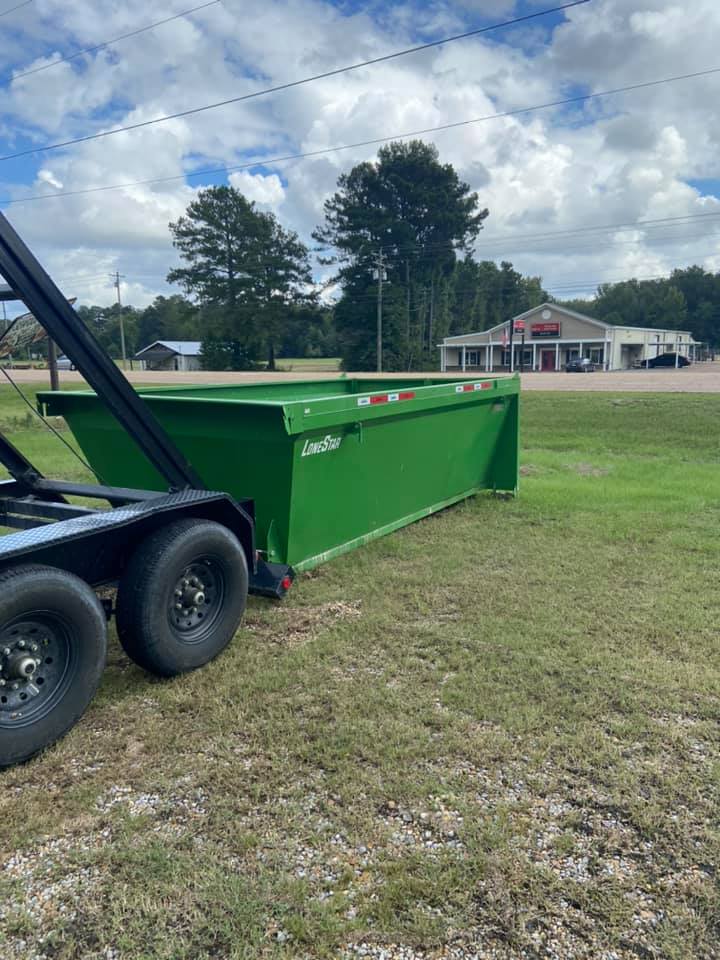 Efficient Commercial Garbage Dumpster Columbus MS for Your Business Needs
Business operations are like well-oiled machines that need lots of maintenance and attention to keep things thriving, which is why our garbage dumpster Columbus MS options are essential for the continued success of your commercial setting. When you rent one of our affordable, durable, and reliable roll offs, you can always expect on-time delivery, helpful service, and results that exceed expectations.

Our 5-star reviewed trash dumpster Columbus options are often booked for apartment complexes, retirement centers, restaurants, retail storefronts, office parks, hotels, and more. Whether you're a property manager handling a foreclosure or a small business owner looking for ongoing waste management services, we're confident our garbage dumpster Columbus services will help you get the job done right the first time. Get in touch with us for single or ongoing service options by giving us a call at (662) 364-0228 or book your roll off online today!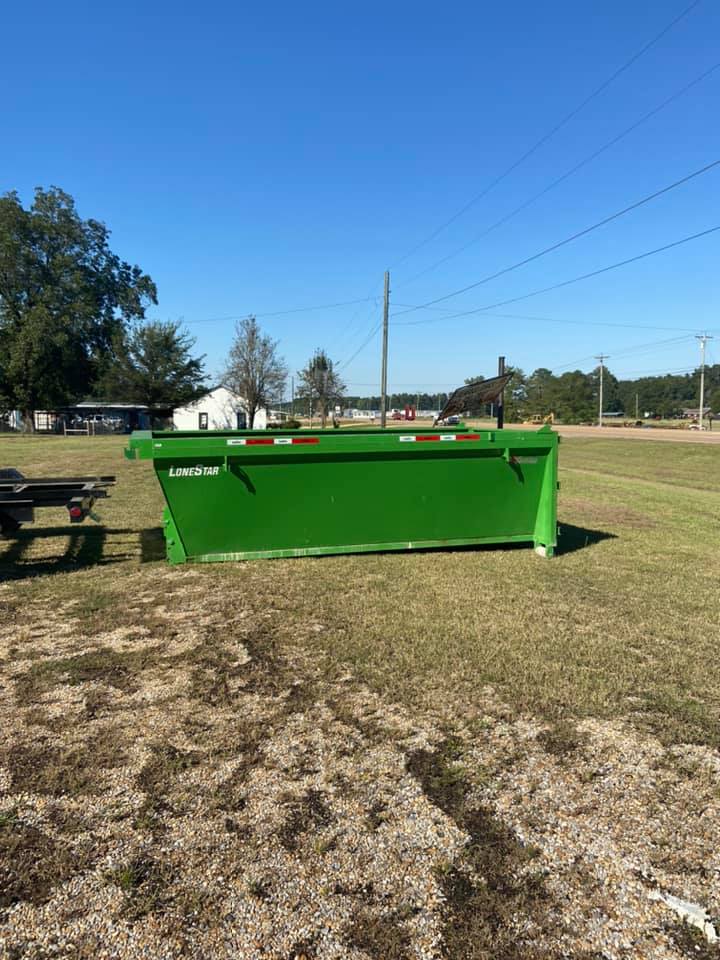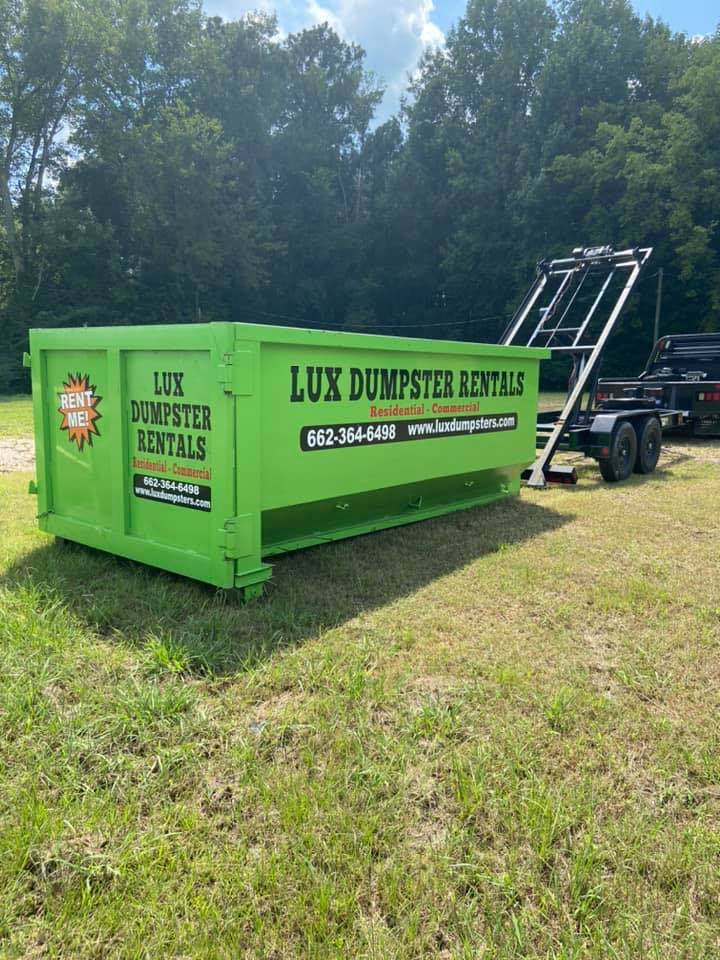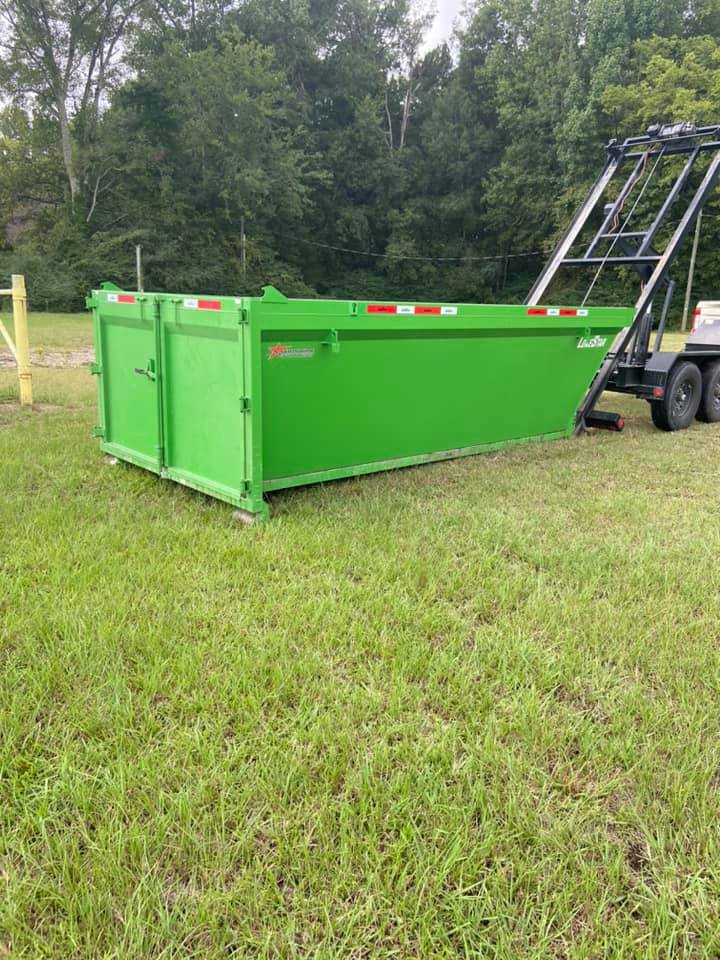 How to Book Colombus Roll Off Dumpster Rental
When you're ready to take the next step and book a Columbus roll off dumpster rental from our team of trusted, experienced dumpster professionals, the process is simple. You can rent a roll off in a few quick minutes from the comfort of your home using our convenient, user-friendly online scheduling tool.

When you're ready to book a Columbus MS dumpster for your next project, navigate to our "Dumpster Rental" page to view your size options. Once you've found the best fit for your project goals, click the lime green "Book Now" button. On the specific product page, you can review dimensions, rental period, tonnage included, and pricing. If you're happy with those numbers, click the green "Add to Cart" button underneath the price. Submit your service type, select your drop-off and pick-up dates, input contact and address information, then check out using our secure system. We accept all major credit cards.

Once your Columbus roll off dumpster rental is booked, you'll receive a confirmation email from our team. We'll be in touch with you leading up to the delivery date to confirm a drop-off window that works for your schedule. Booking a Columbus MS garbage dumpster is as simple as online shopping! If you'd prefer to speak with one of our representatives over the phone, feel free to give us a call at (662) 364-0228 and we'll assist you with each step of your dumpster rentals in Columbus MS process.
Roll Off Dumpster Rental Columbus MS Sizes & Prices
We carry a wide range of roll off dumpster rental Columbus MS to meet the needs of every scale and scope of projects. Whether you're starting a fun home remodeling project or need to find reliable waste management services for the hotel you manager, we're confident we have the perfect Columbus garbage dumpster to solve your problems. View our size and pricing options below and book your roll off today!

15 Yard: This container is the perfect fit for most residential projects, including single-room remodeling, roofing repairs, outdoor sprucing up, and more. We offer a 1-day rental starting at $300, 3-day rental starting at $325, or a 7-day rental starting at $350. This includes two tons of weight with additional tonnage available for purchase if need be. The dimensions are 7' in width by 14' in length and 4' high. We're confident this selection of roll off dumpsters Columbus will benefit most residential and smaller commercial needs.

20 Yard: Our larger container is a great option for commercial and construction rental needs. We offer a 1-day rental starting at $350, 3-day rental starting at $375, and a 7-day rental starting at $400, which includes two tons of weight with additional tonnage available for purchase. The 20 yard roll off dumpster Columbus measures at 14' in length by 7' in width and 6' high.

We're certain we have the roll off dumpster rental Columbus MS that will suit your project or work site goals. Book your dumpster online today or give us a call at (662) 364-0228 to learn more about your options!
Columbus MS Dumpster Rental FAQs
We understand you might need additional Columbus MS dumpster rental details before moving forward with your online booking, which is why we've compiled a list of convenient frequently asked questions for you to browse. Let us know if you need more information about our stellar service and competitive pricing before moving forward with your rental.

1) How much does it cost to rent a roll off?

Depending on the size of the container, the amount of tonnage hauled, and the rental period, our Columbus roll off dumpster prices vary. We offer a 15 yard one-day rental for $300 all the way up to a 20 yard 7-day rental for $400. These rentals include two tons of weight and additional time and tonnage is available to purchase if needed.

2) How do I book a rental?

Booking one of our Columbus MS dumpster rental selections is easy breezy with our online scheduling system! Just choose the size and rental period that best suits your project, input important contact and project details, then check out like any other online shopping experience. We make it convenient and FAST to book with us online! If you'd prefer to speak with one of our friendly teammates, feel free to give us a call at (662) 364-0228 to find out why we're one of the best Columbus MS dumpster companies in the game.

3) What can be hauled away in your dumpsters?

Our durable and heavy-duty dumpsters can accept appliance disposal, construction waste, roofing waste, yard waste, furniture, mattresses, and general debris. We typically work with customers to help remove waste for estate sales, foreclosures, hoarding, downsizing, moving, and other situations. We cannot accept hazardous or flammable materials including asbestos, gasoline, fuels, motor oils, or paints. We cannot accept tires or batteries. If you have any further questions about what can be hauled away in one of our roll off dumpster rental Columbus selections, get in touch with our team today!

Don't hesitate to reach out with any questions about our Columbus MS roll off dumpster rental process and selections! We're confident we can provide the solution to your waste disposal needs.
Providing Columbus Dumpster Rental Services to Surrounding Areas
We're proud to play a small, but vital role in keeping our community waste-free and functioning with our Columbus dumpster rental services. We're happy to provide our rental options to Columbus and surrounding cities, including Starkville, West Point, Caledonia, and Hamilton, among other service areas. We service the following zip codes in Lowndes County with our dumpster rental service in Columbus MS: 39701, 39702, 39703, 39704, 39705, and 39710.

When the clutter is too much to bear and you don't know where to turn, choose our reliable, responsible, and respectful team of Columbus dumpster rental experts to help you get the job done. We regularly partner with homeowners, daycare facilities, restaurants, and Columbus Municipal School District to keep our cities clean and moving forward. Get in touch with us today to learn more about your Columbus MS roll off dumpster options or book online now!
Glowing Reviews for Our Columbus Dumpsters Near Me
With our convenient online booking tool, you no longer have to spend hours searching for trustworthy and reasonably priced Columbus dumpsters near me. It's always our goal to make this a smooth and seamless process, so our team of experts is here to help each step of the way. We're certain our versatile and durable selection of dumpster Columbus MS options will help you succeed in whatever project, job, or ongoing operation you're responsible for.

We're thrilled to have the repeated support of dozens of amazing customers. Over the years, we've championed customer satisfaction above all else, allowing us to build relationships and provide unbeatable service with our roll off dumpster Columbus MS options, but don't take our word for it! Check out what our previous customers have to say about our rental options and book online today:
We Take Just About Everything
Some examples of the junk we haul away include
Refrigerator Disposal

Garbage Removal

Mattress Disposal

Foreclosure Clean Outs
Construction Waste Removal

Yard Waste Removal

Trash Removal

Appliance Removal
Television Disposal & Recycling

Furniture Removal

E-Waste Disposal

Hot Tub Disposal